On Sen. John Fetterman's first day back at the U.S. Capitol after a mental health crisis and a long hospital stay, his staff discussed a fashion question: Could the Pennsylvania Democrat wear a hoodie and a suit at the same time?
He drove from Braddock, Pennsylvania, to Washington, D.C., in a four-hour car ride wearing blue gym shorts, sneakers, and a hooded Carhartt sweatshirt. This was Fetterman's usual outfit because he likes to be comfortable, and his lack of fashion sense helped him get elected to office last year.
On the campaign path, he didn't always wear a jacket and tie. When he did, it was often at the urging of his advisers, who wanted him to at least try to look senatorial to voters who weren't sure yet.
But when he went to Washington in January, he surprised his staff by insisting on wearing suits to public events. They didn't know that Fetterman's fear of being judged was a sign of how bad his depression was.
Fetterman had built his nationalist reputation on not caring what other people thought of his looks, but now he was afraid of being judged.
Now that his sadness was gone, Fetterman was eager to get rid of his suit, but you have to wear a tie on the Senate floor. Adam Jentleson, who was his chief of staff, came up with a solution: wear a shirt and tie under the hoodie and a jacket over it.
When Fetterman walked in wearing a turducken that was both casual and business-like, another top staff member didn't like the look. So did Fetterman. He ended up getting just the suit and a new pair of black suede high-top shoes.
The question of what the senator should wear was part of a bigger task, which is reintroducing Sen. John Fetterman to Washington on his own terms. "In a very strong way, that was my first day on the job," Fetterman told The Washington Post in a short conversation.
When the senator's Chevy Tahoe pulled up to the crowd of reporters and tourists waiting for him outside the Capitol, he felt worried. As he walked in, he turned to the crowd, put his hands over his heart, and then threw them up in a big double wave. "Thanks, and it's good to be back!" he yelled.
Fetterman walked through the Capitol to a group of rooms in the basement of the Dirksen Senate Office Building that didn't have windows. These were temporary offices for new senators while their normal offices were being fixed up.
People who worked for Fetterman were sitting close when people called to ask about his health. "He's doing really well," one person said to the speaker. "According to the interview he gave to CBS, his depression is gone."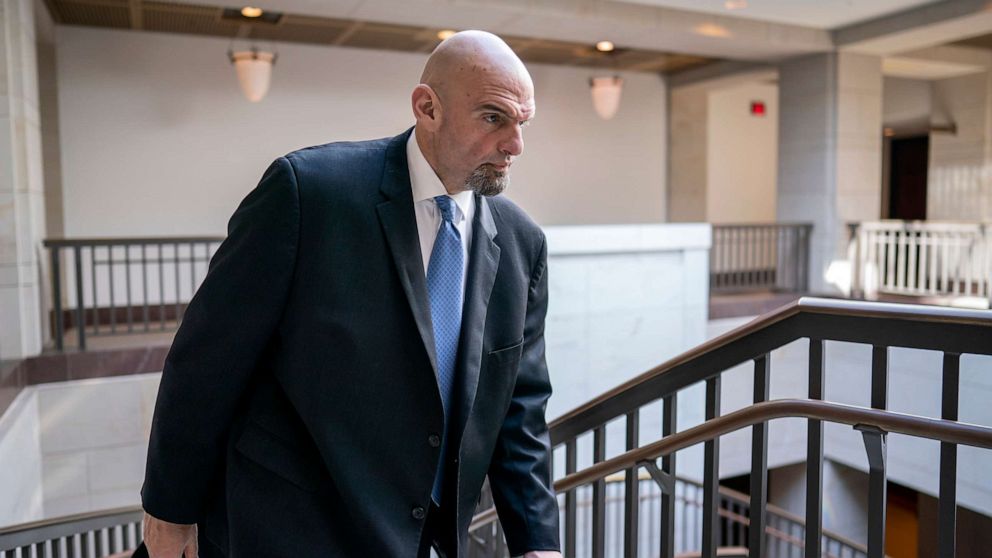 When he walked in, everyone stood up to cheer. Many of Fetterman's employees had never talked to their boss before. Before he went to Walter Reed National Military Medical Center for inpatient care in February, Fetterman only spent time with a small group of close friends.
Fetterman was now eager to meet everyone. He thanked the people who worked for him for "keeping the fires burning" while he was away. Fetterman found a hoodie and a scribbled note of good wishes from the alternative rock band R.E.M. on the desk in his personal office.
Fetterman didn't want his stroke, which almost ended his bid for the Senate, to be remembered as the thing that made him famous. He has different ideas about how his mental health problem might change how he does his work.
He told The Post, "Depression has become a policy priority." "Even if I can help just one person, that's what I want to do." When he came to town in January to take the important seat he had won for the Democrats, he was already a star.
But Fetterman was still having trouble because of the effects of the stroke he had last May, and his sadness was getting worse. In the weeks before he was sworn in as a senator, it was hard for his staff to get him interested in his new job.
Sen. Chris Murphy (D-Conn.), who had campaigned with the "Big, Bubbly" Fetterman, found his behavior "kind of shocking" when his new colleague showed up in January. "It was clear he was not the guy I had met," Murphy said this week.
Sen. Robert P. Casey Jr. (D), the other Pennsylvania senator, remembered that Fetterman looked sad at the Senate Democrats' meeting on Feb. 8.
At the time, Casey thought that Fetterman's bad mood was because he was using an iPad to transcribe talks because the stroke had left him with an auditory processing disorder that caused him to miss words that people were saying.
(People healing from strokes often use closed captioning to help them deal with these kinds of symptoms. Last fall, Fetterman's doctor wrote a letter saying that he could "work full duty in public office."
"I didn't know he was also struggling with depression," Casey said in an interview, thinking back to that early February retreat. "He was probably at a low point at the time." Later that day, Fetterman was taken to George Washington University Hospital to check for signs of another stroke.
When one idea was ruled out, his staff worried that the senator didn't seem to care. He went to Walter Reed the next week and stayed there for 44 days.
He learned in the hospital that, in addition to having trouble understanding sounds, he also had hearing loss and needed hearing aids. Fetterman began to make short phone calls without using text transcription.
He went for long walks every day and lost even more weight. On one visit to Walter Reed, his close friend and political strategist, Rebecca Katz, gave him a stack of news articles about Dwayne "The Rock" Johnson, Michael Phelps, and Bruce Springsteen.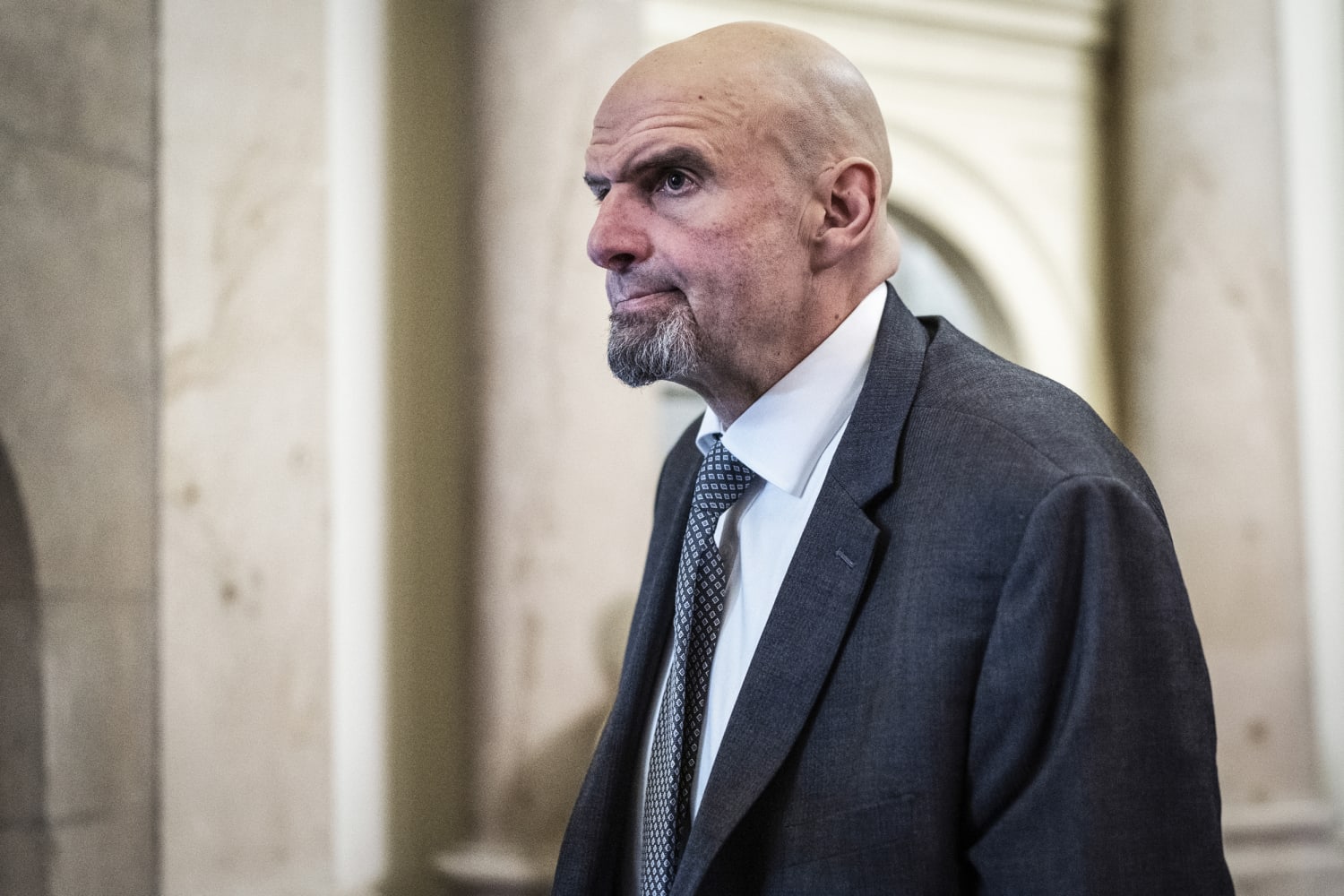 These articles were personal stories about their own sadness and mental health. Their honesty made Fetterman feel like he could be honest about his own pain. Katz remembered him saying, "I didn't know I could get better. I didn't know other people were going through this, too."
When Fetterman started joking around again, his staff could tell he was feeling better. Jentleson, his chief of staff, who went to see Fetterman every day at Walter Reed, was often the subject of his jokes. "Of course, you drive a Subaru!"
Fetterman made fun of his top helper with long hair as he drove away one day. Jentleson said, "He thinks I'm a big hippie nerd." When he got back to work, the first place he went was Casey's. He brought beer and cake for the staff as a small gift to thank them for their help while he was away.
"I'm in love with this man!" Fetterman screamed as he gave Casey a half-hug. A reporter asked Casey how it felt to be back after a two-week break as they walked together to the Senate floor for his first vote. "I'm glad to be back, and I'm glad John is back," he said.
Later that week, Fetterman spoke at a news conference to introduce a plan that would make it harder for members of Congress to trade stocks. He was in charge of his first Senate subcommittee meeting, which was about SNAP benefits.
He spoke clearly, even if he sometimes stuttered and used the wrong word. When Republicans would attack his speech, it used to scare him: Jentleson says, "He always asked, 'How bad was that?' after something small."
Now that he had a handle on his depression, the senator was no longer worried about the attacks. Jentleson says, "They played clips when his speech stopped." "He went right back to not caring." He talked with people who came to his office for a reason, like a dairy farmer who was worried about the rise of soy milk.
Fetterman told her, "I really want to go hard on that oat-milk-type-of-bill stuff." "I'm not anti-oat-milk. It's just a drink made from oats." As he posed for pictures, he gave people hugs and handshakes and was happy to talk to them.
He made fun of a young boy who was advocating for study into Down syndrome by saying, "You're wearing a suit, too!" Fetterman told The Post that his life before and after treatment made him feel like he was two different people.
Read More:
"I'm someone who's happy to have my picture taken, have a conversation, or be involved. Before, I had nothing to do with any of that." Most of Fetterman's impromptu conversations were with people he worked with.
When he passed a group of Democratic senators on his way to vote on Tuesday, he pretended to free them from a stuck Capitol subway. When he ran into Sen. Robert Menendez (D-N.J.) a few minutes later, he told him, "You were great on MSNBC!"
Because of his health, he missed out on the normal ways senators get to know each other. However, Fetterman has made friends with a small group of senators: Casey, who Fetterman calls his "mentor," and Democratic Sens. Amy Klobuchar and Tina Smith, both of Minnesota.
He gets along best with Sen. Peter Welch (D-VT), who is the only other rookie senator on the Democratic side, and with Sen. Katie Boyd Britt (R-AL), who is also a new senator.
Britt made a joke about how they got along because her husband, who used to play offensive line for the New England Patriots, had the same high-altitude eye line as John.
"John was very brave to ask for help," Britt said. Sen. Cory Booker (D-N.J.) gave him a quick hug and handshake outside the Senate floor on Wednesday afternoon and said, "Good to see you, brother!"
"I don't know him yet, but I really, really like him," Booker said of their short conversation. Later that day, when Fetterman went back to his office, a worker gave him a box of information about his Thursday plans.
"A book for tomorrow," she said. Fetterman was on his way out the door and wasn't using his iPad transcription. He seemed to hear "Booker" by chance and told his scheduler that he and the senator would like to hang out sometime in the next few weeks.
She told him he was wrong in a nice way and promised to find time. "It's Miller time!" Fetterman would tell his staff when he came out of his office in the early evening during the whole week.
So, on Wednesday night, all of Fetterman's employees crowded into the meeting room for a happy hour. Everyone yelled, "Surprise! It's Miller time!" when Fetterman walked in. Fetterman gave a small smirk. He was given a beer, and he popped the top on it.
"I'd rather have a seltzer than this," he said. "I love seltzers." His staff tried to stop him, but the senator drank his beer anyway. Fetterman stood in the room's corner by the door and looked around. He said after a few minutes, "This should happen more often."
On Thursday, a series of votes in the afternoon put an end to his week. Fetterman was late getting back to the floor after getting fitted for hearing aids at Walter Reed. He didn't have time to change out of his jacket and shorts and into a suit.
Fetterman then figured out a trick that some of his more experienced colleagues already knew: if he walked up to the doors of the Senate and signaled his vote, he could stay off the floor and not have to change into his suit. Even though he was late, the junior senator from Pennsylvania could do his job and be relaxed.